Welcome to Ford's Produce Co. Providing Quality Fruits and Vegetables Since 1946

For over seventy-five years, Ford's Produce has provided quality fruits and vegetables throughout North Carolina. As a wholesaler, receiver, distributor and importer of a huge line of fresh fruits and vegetables from all over the world, we are proud to serve some of the finest restaurants and grocery stores in America that just happen to be located close to home.
Our business philosophy, now four generations old, is based on building strong relationships and partnerships with our customers. We pride ourselves not only on providing the highest quality products, but also the best customer service in the industry.
We appreciate your taking the time to find out more about Ford's Produce. And remember…when a Ford's Produce truck pulls up to your back door, you're getting the best that North Carolina and the world have to offer. Complete list of products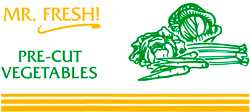 Ford's Produce started and operates the only state inspected and approved fresh-cut processing facility in eastern North Carolina. Ford's Mr. Fresh! provides the freshest and highest quality of fresh-cut produce possible year-round.

Compared to west coast source providers, our product is usually at least five days fresher!
We look forward to serving you!